Special Texas Spring Flowers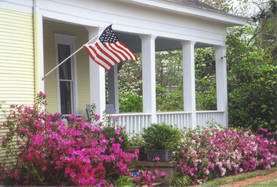 Nacogdoches, Texas
Beautiful Texas Azaleas
The bluebonnet is to Texas what the shamrock is to Ireland, the cherry blossom to Japan, the lily to France, the rose to England and the tulip to Holland.
Historian Jack Maguire
Notwithstanding the above quote, one of nature's showiest and most beautiful flowers -- the azalea -- calls a large portion of Texas home. East Texas possesses the unique conditions demanded by these botanical beauties.

Azaleas love light filtered through the tall pines, and they thrive in the slightly acidic, light soils augmented by falling pine needles, not to mention the higher humidity in this heavily-forested region.
A number of cities and towns have capitalized upon the masses of spring blooms with festivals, azalea "trails," and related events. The Azalea Trail in Tyler, which begins on March 21 and runs through April 6, is very well known, drawing thousands of visitors every Spring during the last of March and the first of April. The Azalea Trail winds through several miles of old red-brick streets in the older section of the city, and several homes open their yards for viewing.

Azaleas in Nacogdoches
Click for larger image
The Ruby M. Mize Azalea Garden in
Nacogdoches
is the largest Azalea Garden in Texas. Eight acres in size, it contains more than 6500 azaleas from more than 500 known varieties. Its beauty is striking. Brilliantly colored blooms of red, pink, white, purple, orange and yellow engulf visitors as they stroll the garden paths.
Visitors to the garden enjoy the traditionally popular azalea varieties such as George Taber, Fashion and Coral Bells. But the truly attention-grabbing varieties are the more rare Purple Spider, Ashley Marie and Sunrise azaleas.
The garden is the centerpiece of the annual Nacogdoches Azalea Trails, an event that runs from March 19 through April 9, 2005. The event, developed by the Nacogdoches Convention and Visitors Bureau to promote tourism, is now in its sixth year.
"The focal point of the event has always been the Ruby M. Mize Azalea Garden," said Pam Fitch, executive director of the Nacogdoches Convention and Visitors Bureau. "But as the garden has grown and matured, it has become the 'show stopper.'"

Wildflowers Across Texas

Beautiful Laurence Parent photography makes this book a first-class tribute to the beauty of Texas Wildflowers
Special Sale


Touring Texas Gardens

Walk through our state's best kept secret - its public gardens!
Original review


Wildflowers of Texas

Perfect guide for the Lone Star State's many wildflowers found everywhere.
Original review
There are several major groups of azaleas with varying characteristics. Blooms range in color and size, and may be single or double. Azaleas have different growth habits from compact to large shrubs and the blooming season can vary from early to late spring. Some of the variety groups include Kurume, Southern Indica, Glendale, Robin Hill, Rutherford and Satsuki. Within each group there may be dozens of varieties to choose from.
Azalea Cultivation
By proper selection, you could have a continuous display of azalea bloom from mid March through May. Azalea blooming season is usually classified as early, mid or late. If you do decide to extend the blooming season, do not mix early and mid-season azaleas in the same bed. The fading blooms of the early flowers detract from the newly opening blooms of the mid-season flowers.
Pruning: In most situations, Azaleas need yearly pruning and will benefit from it. The one key factor to consider about pruning your azaleas is timing. You should prune within the first 2 to 3 weeks after the plants finish flowering in the spring. After that point, the shrub will begin developing the buds that will bloom the following spring. Any pruning that takes place once the new buds have started to develop will have a negative impact on the display you will have in the spring. That does not mean you should not do minor shaping of your plants througout the growing season. It does mean you should be very selective with your cuts and be aware that every cut will impact the flowers for the following season.
Planting Conditions: Azaleas do best when grown in filtered sunlight and a highly organic soil Azaleas need good drainage. While they like moist soil at their roots, they do not like waterlogged soil. An easy way to be sure of proper drainage is to plant Azaleas with the top of the root balls a few inches above ground level. Soil can be mounded around the root ball. With the heavy clay soil often found in our neighborhood, getting proper drainage is especially important.
Water: Like most plants, Azaleas do better when they have adequate water. While the amount of moisture can vary depending on variety, soil and sunlight, you will usually see a drooping of the leaves in plants that are stressed from a lack of water. The best approach is to water azaleas deeply and infrequently rather than applying water often and in small amounts. Young plants with smaller root structures are more likely to need additonal water.
Fertilizer: Once azaleas are established, they do not need fertilizer. In fact, fertilizer applied late in the growing season can cause tender new growth to develop which can be killed in a winter freeze. If you do decide to apply fertilizer, apply it after the last chance of severe frost and before the end of June.
Fungal Control: If you notice small discolored dots on the petals of the flowers, you should use a fungicidal spray to the flower buds just as they are showing color. This will will control the fungal blight and will keep the flowers from collapsing.
Mulch: Azaleas will do better with a couple of inches of mulch around the roots. This will keep the moisture from evaporating in the warmer weather and will protect the roots from freezes in the winter.
Spring is a good time to visit your local nursery, if the Azalea Trail has you yearning for your own riot of color. It is certainly easier to make color selections when plants are in bloom.
Thanks to the Nacogdoches Chamber of Commerce for sending us their beautiful photographs of azaleas.
Have azalea pictures? Feel free to share them, or participate in our Texana discussion forums at http://boards.texascooking.com
More Texas Azalea Events:

14th Annual Azalea Festival, Jasper, Texas - March 22. Jasper Azalea Trail, March 15-31: A 30-minute driving tour -- azaleas and dogwoods.

For more information, see the Texas Events Calendar.