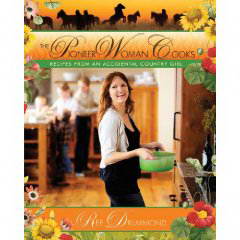 The Pioneer Woman Cooks
Recipes from an Accidental Country Girl
By Ree Drummond
Original Review by Patricia Mitchell


The Pioneer Woman can do it all. She's courageous, she's resourceful, capable and talented! All the things you would expect of a pioneer woman. Is there anything she can't do? Well, she didn't set the type or handle the publishing of her new book, but she did just about everything else.

Ree Drummond, author of "The Pioneer Woman Cooks", is courageous because she turned on a dime from a sushi-eating, manicured, citified girl fresh from LA to a ranch wife on an Oklahoma cattle ranch. She's resourceful, capable and talented because, not only did she write her book, she produced much of what she cooked from her own garden, cooked every recipe and photographed every step of the preparation process for each one. She even shares the make and model cameras she used.

So, the author has produced a cookbook and photographed her recipes. (I'll get to the recipes eventually.) But she has also recorded a beautiful moment in time in what she obviously sees as her charmed life. The book is lavished with stunning photographs of her children, relatives, ranch hands, cattle, horses, dogs and, most importantly, the man responsible for the abrupt turn that her life took – the cowboy who stole her heart – her husband. And in a sprightly voice, she tells her story along the way. It's a good story.

Good, satisfying food is a vital element on a working cattle ranch. The Pioneer Woman cooks for a family of six, and her recipes satisfy her meat-and-potatoes husband, as well as the kids. It's not all meat and potatoes, but it definitely is not sushi. Her recipes are divided into five simple categories: Starters, In the Morning, Dinner, Supper and Sweets.

Among the Starters, The Pioneer Woman makes a mean Pico de Gallo that's terrific with tortilla chips, but she also uses it as a filling for quesadillas and a topping for grilled chicken, pinto beans and anything else that might benefit from a flavorful kick. Katie's Roasted Corn Salad also sounds like a keeper.

For the In-the-Morning section, her homemade Cinnamon Rolls are a masterwork. And remember, you get a good, clear photo of every step of the preparation process. There follows a parade of muffins, scones, egg dishes (Egg-in-the Hole, Breakfast Burritos, Migas) and Edna Mae's Sour Cream Pancakes.

Dinner (that's southern for lunch) often revolves around The Pioneer Woman's Simple, Perfect Chili. She says:
This is my go-to chili recipe for everything from Frito pies to chili fries. It can be left very basic or made more interesting with additions like chopped onion, kidney and pinto beans, and cans of diced tomatoes and chilies. But, whatever the eventual use, I never made chili without adding a mixture of masa (used in Mexican cooking) and water. While acting as a thickener for the chili, masa also lends a distinctive corn flavor, which gives the chili a wonderful dimension. Make this in huge quantities and freeze smaller portions – I love having chili in the freezer!
Dinner also includes Onion Strings, a great recipe for Spicy Pulled Pork, homemade Macaroni & Cheese, Beans and Cornbread, and a wonderful Sherried Tomato Soup. There's Perfect Pot Roast for Sunday dinner.

Supper dishes include what you might expect on a cattle ranch: Chicken-Fried Steak and Cream Gravy, the very special PW's Creamy Mashed Potatoes, Fried Chicken, Braised Beef Brisket, Rib-Eye Steak with Whiskey Cream Sauce, Homemade Ranch (what else?) Dressing, and something you might not expect: Linguine with Clam Sauce.

From time to time, The Pioneer Woman hosts Cowgirl Dinner Parties.
It's important for country women to get together from time to time and remind one another that agriculture isn't just a man's world. I love having cowgirl dinner parties at my house. We girls spend the evening drinking sangria, laughing, letting loose … and cooking all the food we love. And gravy is never, ever on the menu.
The cowgirls eat pretty well. In addition to the Sangria, there's Roasted Beef Tenderloin, Burgundy Mushrooms, Olive Cheese Bread and Crème Brûlée.

Sweets pulls out all the stops with a collection of luscious desserts such as Patsy's Blackberry Cobbler, Chocolate Sheet Cake, Mocha Brownies (with really thick mocha icing), and Peach Crisp with Maple Cream Sauce.

I often quote a particular recipe in cookbook reviews, but since all the recipes in "The Pioneer Woman Cooks" are accompanied by numerous photos, you would not get the full effect. Trust me; the recipes are good.

"The Pioneer Woman Cooks" is, as its author intended, much more than a cookbook. One wonders how she finds the time for all the important things in her life but, again, she's The Pioneer Woman. Ree Drummond began memorializing her life several years ago when she started a blog. She now has an award-winning website – www.ThePioneerWoman.com -- which I hesitate to mention because you may merely visit the site and bypass the book. (The site is not a twin of the book.) If you do that, you will miss out on a lovely, captivating experience.

I don't believe I have ever read a really good cookbook that was also a romance novel, photo essay and inspiration piece, but that is what Ree Drummond has created. You should have a copy of this colorful, dynamic cookbook.

***

Ree Drummond is a thirty-something ranch wife, mother of four, who reportedly "kissed James Garner on an elevator once." Her website is thepioneerwoman.com.

The Pioneer Woman Cooks: Recipes from an Accidental Country Girl
Softcover: 256 pages
Publisher: William Morrow Cookbooks (October 27, 2009)


© 2013 Mesquite Management, Inc. -- ALL RIGHTS RESERVED.
Texana is part of the Texas Cooking website network.