by Madalene Hill & Gwen Barclay
with Jean Hardy
Original review By Steve Labinski
Cooking with fresh herbs has never been more popular. Southern Herb Growing not only works as a cookbook, but as a guide to cultivating herbs in the South, a region that is not necessarily conducive to growing many herbs. The designs of variety of herb gardens, from formal knot gardens to more random arrangements, achieving borders and special effects, are fully explored. And the authors have included a wonderful section on drying and preserving, crafts and decorating, oils and recipes.
The South is not a homogeneous region. Rainfalls, temperatures and climate vary throughout the South. An herb grower in Tennessee will face different challenges to one in Texas or Florida. The book includes a "Plant Hardiness Map" showing average rainfalls. Authors Madalene Hill and Gwen Barclay clearly have experience in growing herbs, having owned and operated an herb farm in Cleveland, Texas, for 30 years. Today they reside comfortably in Round Top, one of Texas's nicest small communities.
The book begins with "An Herbal Primer." There is a broad discussion as to why one should grow herbs in the first place. It settles on the reasons that, one, the ancient plants are links to history and, also, they complete the taste of food, making it palateable and savory.
The second part of the book is the "Growing Guide." This section is devoted to detailing over 125 herbs, including interesting historical information about the plant, many of its uses, and the plant's likes and dislikes and other requirements of cultivation.
Greater attention is given to more common herbs like basil, mint, oregano and parsley. All of this these concepts, including the various herb gardens described above, are fully realized with many large, excellent photographs. Every new idea or technique in the book is accompanied with a picture.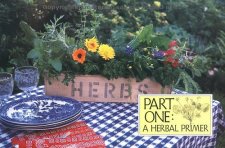 The book contains useful sidebars on special topics, like "The Best Basils" and "Using Thyme Wisely" together with many lists grouping herbs for different uses. The lists include - Easiest Annuals, Easiest Perennials, Essential Culinary Herbs, Edible Flowers, For Dappled Sun, For High-Shade Areas, Evergreen Perennials, For the Gray or Silver Garden, Tea Plants, For the Physic Garden, For Crafting, For Potpourri and Dye Plants. Also spelled out are herbs for: Low Hedges & Borders, Best For Backgrounds, Attract Bees, Attract Hummingbirds, For Shakespeare Gardens, Attractive Flowers, Best for Insect Deterrence in the Garden, For Full-Shade Areas, For Biblical Gardens, For Mary Gardens and For The Wild Garden.
Fresh herbs are the most satisfying and best tasting when cooking. Of course, fresh basil and sage are indispensable. However, Southern Herb Growing includes over 100 great recipes using a wide range of herbs. There are recipes for parsley jelly, a wide variety of salad dressings, and gorgonzola sauce. For appetizers, there are numerous dips, pates, breads and caviar, as well as a number of excellent main courses of beef, pork and turkey and quail.
Like all books from Shearer Press, it is repleat with useful, lovely illustrations and photographs. Whether you want to grow some easy herbs in your garden, or go beyond the usual staples for cooking, gardening, crafts or potpourri, it is all here. This is a fine book you will turn to again and again.
Chamomile
Chamaemelum nobile
Compositae / Annual (in South)
The various plants known commonly as chamomiles have been the source of much confusion to growers. The perennial apple-scented chamomile formerly called Anthemis nobilis has been reclassified by Hortus Third as Chamaemelum nobile and is generally considered to be the one most valued and loved as a tea. It is listed in various catalogs as Roman, English, Hungarian and even German chamomile.
There are several other plants called chamomile, some growing wild in various parts of the world, that have small, composite flowers, either single or double, with a fragrance similar to that of C. nobile. Anthemis cotula and Matricaria necintita are the two most often confused with true chamomile and in fact are often known as false chamomile.
Easily grown from seed, this plant is a perennial in many parts of the country but usually will not survive our summer heat. It thus becomes in practical effect an annual, adding to the confusion. Southern winters do not usually bother chamomile and it often thrives during that time. It will reseed prolifically, readily renewing itself in an undisturbed garden or container. The lacy foliage of these small plants is fragrant, but it is the little daisylike flowers that produce the delightful apple-scented tea.
The name "chamomile" means ground apple. Chamomile is sun-loving and prolific, but it does take many a tiny flower for a cup of tea.
Horseradish
Horseradish has been in cultivation since ancient times and holds a fascination for all who know its pungency in remoulade sauce and with boiled beef. It is a perennial you can start by purchasing the dormant root, which is more readily available in recent years. Plant it in rich, loose soil in full sun with good drainage. It will not make plump roots in poor, hard or sandy soil. It tends to be an aggressive plant, so put it away from your shy, retiring herbs. It is said to deter potato bugs.
Horseradish is a popular catch plant in Europe. We use it for this purpose, hand-placing the larvae on the large leaves, which become riddled. As soon as the larvae have gone on to the next stage (teen-aged butterflies or moths), we cut the leaves to the ground and new leaves soon grow. This works beautifully.
The tops look like mustard greens, and they may be added to the salad bowl for an extra zing of flavor. To harvest the roots, carefully dig down in late summer or fall. Find a lateral root and cut it off. Do not dig up the plant except for division in mid-winter.
This recipe might have been found in one of Texas's Czech communities:
Slavic Pork Loin
1 t Salt
½ t pepper
1 t ground cumin
1 t ground coriander
½ t ground fennel seed
½ t caraway
2 lbs. boneless pork loin, sliced or 3 lbs. loin chops
2 T Olive Oil
2 T Salad Oil
2 Large Cloves Garlic
1 Large Yellow Onion, cut in half and sliced thin
1 ½ T Flour
1 C Dry white wine
¾ C Chicken broth
1 - 2 T Lemon Juice
½ C Chopped parsley, divided
2 L Red sweet peppers, sliced
1 T additional oil
Combine the salt, pepper, cumin, coriander, fennel and caraway. Slice pork 1/3 inch thick, place between pieces of plastic wrap, and pound with a heavy mallet to uniform size. Sprinkle each piece with part of seasoning mixture. Heat 4 tablespoons oil in heavy skillet. Add garlic and saut pork slices til lightly browned, about 1 minute on each side. Drain well and transfer to a shallow oven-proof dish.
All onion slices to skillet; saut til limp but not brown. Remove onion from skillet with slotted spoon to drain oil, placing them on pork slices in baking dish. Pour off all but 2 tablespoons oil from skillet.
Stir flour into oil remaining in skillet, cooking for 1 minute to brown lightly. Gradually add wine and broth, stirring constantly til slightly thickened. Add remainder of seasoning mixture, lemon juice and 1/4 cup parsley; season with salt and pepper as needed. Pour sauce over pork slices and place in a 325 degree F oven. Bake 45 minutes, basting occasionally.
Saute sliced peppers in 1 tablespoon oil til just hot. Drain with slotted spoon and reserve. To serve, place pork on platter, adding peppers evenly between the slices. Spoon sauce over and garnish with remaining parsley.
Serves 6 - 8
More Southern Herb Books:
Paperback: 198 pages
Publisher: Shearer Publishing; ISBN: 0940672669 (July 1997)
Purchase Book on Amazon.Com
© 2013 Mesquite Management, Inc. -- ALL RIGHTS RESERVED.
Texana is part of the Texas Cooking website network.