Original Book Review by Steve Labinski

Wow! Chandra Moira Beal has given us a new fascinating reference book to add to our Texana book selection. Splash Across Texas! crams everything possibly related to swimming in Central Texas into a blue paperback book of 392 pages.

Splash Across Texas! weds the over 150 pools, lakes and parks in Central Texas with many pages of interesting historical and anecdotal information.

We learn in the passage about Austin's Town Lake, which flows through the middle of town that the city originally sprung from a small camp named Waterloo, which was located on the banks of the Colorado River. Many of the areas famous parks like Barton Springs and Deep Eddy Pool are presented with interesting information regarding their history and origin. The reader soon draws a correlation with the way Texas developed through history by its relationship to the water supply.

The bulk of the book chronicles every pubic swimming and wading pool in Austin and the surrounding suburbs. This information is enhanced with literally hundreds of photographs of almost every pool, park and monument.

The book contains much information beyond Austin as well. Central Texas lakes like Lake Belton, Lake Marble Falls and Lake Buchanan are covered. Rivers and natural springs in towns like Salado, Wimberley are covered. Natural pools like Hamilton Pool outside Austin are discussed.

Beal does not leave out state parks either. Texas state parks contain much hidden history, and many are very underutilized. Learn about the little-known McKinney Falls State Park just minutes from downtown Austin. Or about the "lost pines" in Bastrop State Park, which was part of a prehistoric pine forest that now grows over a hundred miles to the east.

The book also includes complete visitor information on water parks around Texas, like Schlitterbahn in New Braunfels, SeaWorld in San Antonio, Six Flags in Arlington, etc. Even the area's university pool facilities are exposed. We learn the little known secret that on the University of Texas campus lies a world-class 50-meter by 25-yard competition pool. If you are a competitive swimmer, Beal describes how the public can take advantage of these facilities.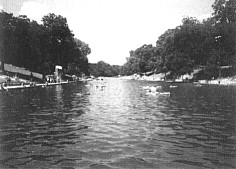 PHOTO: Barton Springs in Austin, Texas

As a resident of Austin for over 10 years, I was startled to learn about a city park just 9 blocks from where I live. Reed Park contains an historic kiln, built by Scottsman Peter Caldor Taylor in 1871 to create the limestone for the now historic buildings that populate the city. The wagon trail Taylor used to go to the rock quarry still exists as a trail in the park. Little did I know….

So despite the fact that I've not been much of a swimmer, I have found plenty of interesting information about central Texas. If you live outside Austin, this book makes a great travel companion if you plan to visit Austin or central Texas for its parks. Beal extensively uses first-hand interviews with long-time residents about how the area was created and evolved over the years. These are the things that make Austin life and visiting Austin so interesting.

Excerpt from Splash Across Texas:

Deep Eddy Pool has the most colorful history of any pool I have come across. It began as a natural swimming hole on the Colorado River, thrived as a resort in the 1920s, and endured flooding by the Colorado River many times. Today it is a very popular swimming pool operated by the City of Austin. It is Texas's oldest swimming pool and one of Austin's first publicly owned parks. Deep Eddy Resort was the first tourist stop in Austin, sponsored the very first river parade on the Colorado, and was the first Works Progress Administration project in Austin.

Barney Bowling, a University of Texas champion swimmer and lifeguard at Deep Eddy Pool in the 1920s, remembers when the area was known as Eiler's Park and Deep Eddy Pool was a meadow full of trees, grass and sunflowers. Horses grazed nearby. People swam in the Colorado River where a huge boulder sat over a hole in the limestone riverbed, forming a dangerous eddy. Cold springs rose from the banks and formed a primitive bathing area surrounded by stones. Hence, people began calling it Deep Eddy. Couples floated in rowboats, and children played on waterslides and a cable pulley which spanned the river.
* * *