Original Book Review by Lucas Everidge
Ann Arnold's Gamblers & Gangsters - Fort Worth's Jacksboro Highway in the 1940's and 1950's runs through the lives and fates of many shady characters who made-up Fort Worth's gangster underworld. The gangster underworld? Yes, for many years Fort Worth was refered to as "Little Chicago." Readers of this book will quickly undertstand the term was well-deserved.
Arnold begins her story with the sudden car-bombing of gambler Nelson Harris and his pregnant wife, Juanita on Nov. 22, 1950. The case, which was never solved, brought to public attention the crime and corruption which had turned Fort Worth from Cowtown to "Little Chicago."
Citizens and the city council became frustrated with the law's inability to deal with the situation. Any indictments or arrests made would be mysteriously plea bargained down to misdemeanor fines, or never prosecuted. The police chief and vice squad would insist they never found evidence of gambling.
Yet, at the same time reporters for the Dallas Morning News would walk into the gambling clubs on Jacksboro Highway, play with their own cash, and write newspaper stories lauding the city with details of wide-spread open gambling.
Some of the gambling parlors began in the 1920's as speak-easies. Clubs like Top Of The Hill in Arlington or the 2222 Club or the 3939 Club in Fort Worth were constructed with hidden rooms, guard shacks and secret passageways. The large amount of gambling produced wide-spread graft and police corruption. All the law officials were paid-off regularly.
Gambling also creates large amounts of cash. The cash had to have extra protection from guys carrying guns. This atmosphere produced gangsters who ran rackets, operated bars and killed each other over arguments. Arnold tells stories of people ultimately found decomposing in shallow graves near Lake Worth.
Arnold writes, "People not involved in entertainment or gambling rarely encountered the underworld. They had no reason to be fearful. The first many neighbors knew of the double lives of men killed in gangland slayings was when they read about it in the newspapers." Apparantly we do not want to give the impression that Fort Worth was a wild lawless town like Chicago in the 1930's.
Arnold details the history and fates of Tincy Eggleston, Cecil Green, Herbert Noble and Jim Thomas. "Except for their particular area of crime, (these gangsters) were law-abiding citizens." Many of the gangsters did not go to prison, but instead were killed by other gangsters.
Arnold's book interested me because I grew-up in the Fort Worth area, and I enjoyed reading about many of the lives and times of Cowtown fifty years ago. The book contains many interesting details and facts about the city, the entertainment industry and people of the time. It also contains lots of photographs as well. Beyond those familiar with Fort Worth, readers everywhere should enjoy the wild and wooly stories of that bygone era.
Note: Interested in books about Fort Worth? Read our review of Hell's Half Acre.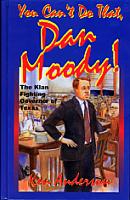 You Can't Do That Dan Moody
by
Ken Anderson
, Eakin Publications
Original Book Review by Lucas Everidge
This month we explore the law and the lawlessness of Texas. We review two books from the Eakin Press - You Can't Do That, Dan Moody by Ken Anderson and Gamblers & Gangsters: Fort Worth's Jacksboro Highway in the 1940's and 1950's by Ann Arnold. Both writers reside in the areas of the state where the stories in their books occur. Ken Anderson is currently an assistant district attorney in Georgetown, TX.
(The same job, as a matter of fact, that Dan Moody had in the 1920's. Ann Arnold is a long-time Fort Worth resident who has written much about the city and its historical figures.
Ken Anderson's book on Texas Governor Dan Moody tells a great story which, as a life-long Texas resident, I did not know. Perhaps I was sleeping through that week in my Texas History class in junior high.
In the 1920's the Klu Klux Klan was thriving all over the South. Anderson details the formation of a very active Klan chapter in Moody's Williamson County, about 40 miles north of Austin, TX.
The Klan's appeal as a secret society was strong. The group purported to protect what was seen as declining morals and an American way of life. Most of Anderson's book details the case and trail involving the brutal assult of R. W. Burleson, a traveling salesman who local Klansmen assumed was having a adulterous affair with a local widow. At that time, no member of the Klan had ever been brought to justice or served a day in jail. (Hence the book title - You Can't Do That, Dan Moody!)
During this time, Dan Moody was a young district attorney for Williamson County. Moody prosecuted the case despite overwhelming popular sentiment that it is impossible for a jury conviction in such a trial. Moody quickly found many of his witnesses sympathizing with the Klan.
The defense found and brought forth people who would lie or distort facts in order to protect the Klan. The defense hired some of the best criminal defense lawyers, including a popular sitting Texas Senator.
Anderson moves us through the trial, bringing all the characters to life with back-and-forth dialogue. I enjoyed following the story, and learned a great deal about the way cases were tried back then. I was reminded of an historical, Texas-style episode of the TV drama Law & Order.
At 157 pages, the book is primarily intended as a children's book. However I found it to be a nice addition to my own Texas history bookshelf. The book makes a great gift for any kid who could find an interest in the law or just in reading about courageous people like Dan Moody. Anderson's interesting story of Dan Moody makes "You Can't Do That, Dan Moody!" worthwhile for adults as well.
Book

You Can't Do That, Dan Moody

Softcover

176

pages

Publisher

Eakin Press

(April 2, 1998)

Purchase
© 2013 Mesquite Management, Inc. -- ALL RIGHTS RESERVED.