Three Self-Published Cookbooks

+ As We Remember - Recipes & Recollections of the Timmermann Sisters
+ Secrets to Cooking Tex-Mex by Michael W. Ludwig
+ The Ultimate Wine & Food Pairing Cookbook by Merrill Bonarrigo
There are thousands of self-published books printed every year. Individuals, businesses, civic organizations and church groups write books and have them printed. You may already own one; you may own several. And just because a book is self-published, rather than offered by a book publisher and assigned an International Standard Book Number (ISBN), it does not necessarily follow that such a book doesn't deserve merit.
Since self-published books are not usually available in book stores, many potential readers may not know they exist.
We have encountered three deserving self-published cookbooks, and we think our readers should know about them, as well as how they can be obtained. In alphabetical order, they are:
As We Remember . . . Bread Pudding & Wine Sauce
The Timmermann Sisters
This book is a gem, as much for its historical content and insightful recollections, as for its wonderful recipes. As a native Texan, I knew that German immigrants had settled much of the central portion of the state now known as the Hill Country, but "The Timmermann Sisters" made it real for me and filled in the abundant gaps in my knowledge.
Edited by D. M. "Mack" Malmsten, who also wrote the historical portion, this book is a compilation of remembrances and recipes of seven sisters whose great grandparents were "already waiting on the shores of Texas for Prince Carl Solms' German colonists in 1844." Much more than a mere sketch, the historical information is well researched, well-presented and very readable.
A great deal of Texas' unique blend of cultures can be read into the recipes offered in this book. Not only does "The Timmermann Sisters" provide traditional German dishes such as Homemade Noodles, Sausage Bread, Easy Sauerkraut, Christmas Stollen and Heavenly Alsatian Soup with Dumplings but, foods from the adjacent cultures their way into everyday cooking, like Country Cornbread, Enchiladas, Tamales (from the 1860's) Italian Spaghetti, Creole Chicken Gumbo, Cowboy Gravy and Spicy Barbecue Oven-Fried Chicken. And I haven't even mentioned the Moravian Sugar Cake, Flaming Plum Pudding Cake, Do Not Stir Cobbler, and Skillet Cookies. There are many good recipes here.
The recipes are well written, and the entire recipe section is liberally sprinkled with helpful hints to aid and speed preparation. Softcover with a spiral binding, "The Timmermann Sisters" also contains many photographs of area landmarks and people mentioned in the book including, of course, the Timmermann sisters, themselves.
"The Timmermann Sisters" is technically an exception to our self-published cookbook theme. Published by Tommy Brown Printing in Seguin, it does have an ISBN (0-9655981-0-8), but the book is nevertheless difficult to find.
A web page at http://www.io.com/~bumper/sister01.htm ( The Timmermann Sisters ) is dedicated to the sale of the book. Although the site does not offer online sales, is lists complete information for mail order. Price of the book is a modest $15.00 plus $2.50 shipping, and all proceeds from the sale of the book go the Sunrise Rotary Scholarship Foundation which awards college and vocational scholarships to graduates of Navarro High School in Geronimo, Guadalupe County, Texas.
* * * *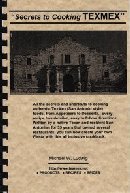 Secrets to Cooking Tex-Mex
Author: Michael W. Ludwig
Soft bound, 126 pp.
$10.00

If you like Tex-Mex (and who doesn't?), trust me, you must have this book. Although the author is a native Texan who owned and operated restaurants in the San Antonio area for many years, he now lives in Florida where, presumably, he had enough time to put his secrets into a very inclusive cookbook.

It's all here -- Chalupas, Chili con Queso, Queso Flameado, Burritos, Carnitas, Chimichangas, Enchiladas, Flautas, Picadillo, Empanadas, a really excellent Lime Pie, and I could go on and on. One of the really nice things about this book is the inclusion of recipes for sauces like Ancho Chili Sauce and Chili con Carne Sauce that form the essential base of many Tex-Mex favorites.

There is no introduction or dedication in the book; instead, the author gets right down to business. The book's sections include appetizers, entrees, breakfast dishes, desserts and drinks, as well as step-by-step, detailed directions for the preparation of both corn and flour tortillas. The recipes are written in a straightforward, easy-to-understand style. "Secrets" also contains a glossary of Tex-Mex words and phrases, complete with pronunciation guide.

Mr. Ludwig has a web site at http://www.texmex.net ( Secrets to Cooking Texmex ) where he sells not only his book for the incredibly low price of $10.00, but many of the ingredients called for in his recipes. You can order online, or call toll free at 877-243-8839. Softbound, with spiral binding, the book lies conveniently flat.

Like I said, if you like Tex-Mex, you need this book.

* * * *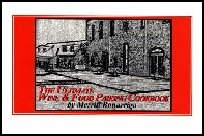 The Ultimate Wine & Food Pairing Cookbook
Author: Merrill Bonarrigo
Soft bound, 126 pp.
$16.00

One of the brightest stars in Texas' burgeoning wine industry is the Messina Hof Wine Cellars in Bryan. The author, herself the general manager of Messina Hof, and her husband, Paul Bonarrigo, have been singularly involved in developing their award-winning wines, having planted every vine in their original test plot themselves back in the early 1980's.

The Ultimate Wine & Food Pairing Cookbook is a collection of wonderful recipes organized by the type of wine best suited for the dish. I emphasize "for the dish," as opposed to "in the dish." For instance, Steve's Stuffy Chicken, a wonderful whole chicken baked with truffle paté and goat cheese, contains Messina Hof Papa Paulo Port, but it is paired with their Brut Méthode Champenoise, a Brut Sparkling wine made with the genuine Méthode Champenoise technique. Quite a few of the selections contain no wine at all.

There are many stunning recipes: Poached Salmon Steaks with Lemon Cream Basil Sauce (Chardonnay), Reflections Roast Beef with Mushroom Wine Sauce (Cabernet Sauvignon), Beef Messina (Merlot), Giovanni's Chicken Gorgonzola (Merlot), Farm Fresh Fruit Salad (White Zinfandel), Canoe Quail Elegante (Pinot Noir) and Boston Roast Duckling with Port Wine Sauce (Pinot Noir).

The book begins with a section on pairing wines with foods, including wine challenging foods, and ends with an excellent Wine Protocol section, including How to Read a Wine Label, a varietal pronunciation guide, serving wine and pouring more than one wine. Additionally, the recipes are indexed by section (Beef, Cheese, Chicken, Desserts, Fish, Salads, and so on).

This cookbook is very nicely done. Printed in a "landscape" format with an oversized plastic spiral, heavy, glossy covers, and nice plastic-coated tabbed dividers between each section, it sells for a mere $16.00, and is worth every penny and then some.

You will find this fine book on The Messina Hof Wine Cellars web site at http://www.messinahof.com. Should you wish to order the book by telephone, the number is 409-778-9463, Extension 30.

© 2013 Mesquite Management, Inc. -- ALL RIGHTS RESERVED.
Texana is part of the Texas Cooking website network.