by Adolfo Alvarez
Texana News Writer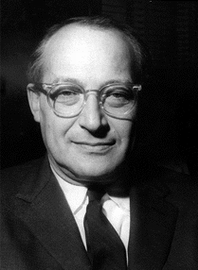 AUSTIN -- Walt Whitman Rostow, who served in the administrations of Presidents John F. Kennedy and Lyndon B. Johnson and advocated military action in Vietnam, died at an Austin hospital. He was 86.
Rostow died Thursday night, February 13, 2003, said Pam Crowther, a spokeswoman for Seton Medical Center. The cause of death was not revealed.
The son of a socialist immigrant who named him for the poet Walt Whitman, Rostow graduated from Yale at 19. He won a Rhodes scholarship and served as a major in the Army's covert Office of Strategic Services in World War II. Rostow then pursued a career as a scholar of economic modernization and a prominent adviser to politicians.
It was his relentless support of American military intervention in Southeast Asia, first as a White House and State Department official in the Kennedy administration and then as Johnson's national security adviser at the height of the Vietnam War, that marked him for life.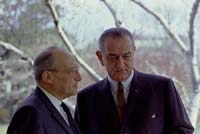 President Johnson with Walt Rostow
"He became the president's national security adviser at a time when criticism and opposition to the war were beginning to crystallize, and he eventually served the purpose of shielding the president from criticism and from reality," wrote David Halberstam in
The Best and the Brightest
, his 1972 study of the Vietnam War's origins. "He deflected others' pessimism and rewarded those who were optimistic. It was not contrived; it was the way he was."
To the end of his life, Rostow expressed no public regrets about his position on the war, contending in a 1986 interview that congressional cuts in military aid had caused the fall of South Vietnam. "I'm not obsessed with Vietnam, and I never was," he said then. "I don't spend much time worrying about that period."
Walt Whitman Rostow was born Oct. 7, 1916, in New York City to Russian-Jewish immigrant parents who gave their three sons distinctive American names. Rostow's older brother, Eugene Victor, named for the Socialist presidential candidate Eugene V. Debs, became dean of the Yale Law School and Johnson's undersecretary of defense for political affairs. A third brother, Ralph Waldo, was named for Ralph Waldo Emerson.
Walt stood out from the start. He earned his Ph.D. from Yale in 1940 and began his career as an economics instructor at Columbia University. After his wartime service, for which he received the Order of the British Empire, he joined the State Department as assistant chief of the German-Austrian Economic Division, later returning to England to teach American history, first at Oxford, then Cambridge.
From 1950 to 1961, he was professor of economic history at MIT and also a staff member of its CIA-supported Center for International Studies. He did occasional consulting work for the Eisenhower administration and became a policy adviser to Kennedy, then a senator from Massachusetts, in 1958.
In January 1961, Kennedy named Rostow as deputy special assistant to the president for national security affairs. That fall, in a staff shuffle, he went to the State Department as chairman of the Policy Planning Council at the State Department.
In 1964, Johnson gave him the additional duty of U.S. member of the Inter-American Committee on the Alliance for Progress, with the rank of ambassador.
Johnson called Rostow back to the White House in early 1966 to serve as special assistant for national security affairs, the post now known as national security adviser, where he remained until Richard Nixon was sworn in.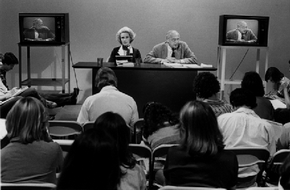 Televised class being taught by Walt Whitman Rostow and Elspeth Rostow at the Lyndon Baines Johnson School of Public Affairs, 1976.
Because of his hawkish stance, Rostow was a pariah in many academic quarters, but he flourished at the Lyndon B. Johnson School of Public Affairs at the University of Texas, where he was an emeritus professor of political economy. Rostow served as the Rex G. Baker Jr. Professor Emeritus of Political Economy.
His wife of 55 years, the former Elspeth Davies, a political scientist, joined him on the faculty of the Lyndon B. Johnson School of Public Affairs at the University of Texas in Austin.
In the early 1990s, Rostow became head of the Austin Project, a local civic organization dedicated to expanding public and private programs providing prenatal care and aid to disadvantaged children.
More Books On US Foreign Policy History:
War In A Time Of Peace
by David Halberstam - Examines how the end of the Cold War effected US foreign policy.
The WISE Men
by Walter Isaacson - Blend of personal biographies and drama on the men who formulated US foreign policy at the start of the Cold War
The Conquorers
by Michael R. Beschloss - Very readable history of the debate about how to deal with Germany after WW II.
Besides his wife and his brother, Ralph, of Sarasota, Fla., Rostow is survived by a son, Peter; a daughter, Ann; and one grandchild.
Rostow was the author of more than 30 books. His latest, Concept and Controversy: Sixty Years of Taking Ideas to Market, is to be published in June.
His wife, Elspeth Rostow, is on the faculty of the Lyndon B. Johnson School of Public Affairs at the University of Texas in Austin.