by Steve Labinski
Texana Editor
The Kimbell Art Museum is renowned for bringing world class art to it's modern facility located in the heart the cultural district in Fort Worth. The museum's creative team, including acting Director Malcolm Warner, may have outdone themselves this time with the tour The Impressionists: Master Paintings from the Art Institute of Chicago, which runs until November 2.
Who would have realized back in the late 1800's that Chicago, Illinois would become one of the prominent homes to modern French painting?
Back in 1879, wealthy Chicago magnates developed a taste for collecting art from Europe, just as the French Impressionists were coming onto the scene. In many ways, American collectors treated this new batch of artists far more generously then the stodgy old French public. Dubbed Impressionism for their new use of color and light in compositions, the painters received icy responces from France's establishment Academies des Beaux-Arts, who de facto screened and controlled the display of French art.
During this period, Bertha Honore Palmer, wife to Chicago retail magnate Potter Palmer, developed an insatiable appetite for art. Young, smart and very beautiful, she rose to the very top of high society in the Windy City. When traveling to Europe as part of organizing and promoting the World Columbian Exposition (better known as the Chicago World's Fair), Palmer fell in love with Impressionist art, bringing home with her twenty-nine Monets and eleven Renoirs after an extended trip.
Palmer's art purchases formed the core of the Art Institute of Chicago, and many are part of the touring collection at the Kimbell. Paintings from the choice Palmer Collection are combined with others to form a one-of-a-kind opportunity for Texans to see first hand a wide ranging set of historic, beautiful art masterpieces.
The twelve Renoirs on exhibit include the striking Acrobats at the Cirque Fernando, a famous canvas of two young girls receiving appreciation from an enthusiastic audience at one of Paris' popular permanent circuses.
Beyond Renoir, the exhibit is crammed full of leading paintings from the entire palette of Impressionist painters including Edouard Manet, Edgar Degas, Claude Monet, Paul Cézanne.
Henri de Toulouse-Lautrec was one of the younger generation of original Impressionists. The Frenchman drew skillful depictions of people in large crowds, particularly from the wild Pariessiene nightlife, often while fueling his own appetite for alcohol. The exhibit's At the Moulin Rouge and others are choice paintings.
Toulouse-Lautrec as well as Paul Gauguin, Vincent van Gogh are artists from this later period, and their paintings range from sad to disturbing to simply wild. A room of Gaugin paintings show a primitive life peopled by natives in remote French Tahiti, which the painter shows even there feel the long arm of Western civilization.
The exhibition of approximately ninety paintings are a once in a lifetime treat for anyone.
Fortune smiled on the Kimbell. The Art Institute of Chicago is currently constructing a new wing to specifically exhibit their modern and contemporary collection. It is scheduled to open in 2009. Therefore until then, the juggling around of the collection left this collection of paintings available, otherwise all these Monets and Manets would have ended up in well preserved storage.
Kimbell rightly seized the moment to present this exhibition of diverse, colorful art. The public can surround themselves in this spectacular collection until November 2.
---
Steve Labinski lives in Austin, TX.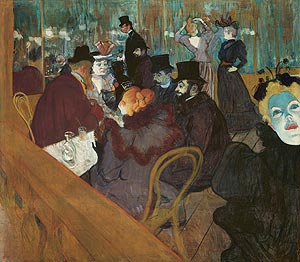 At the Moulin Rouge
by Henri de Toulouse-Lautrec
Art Institute of Chicago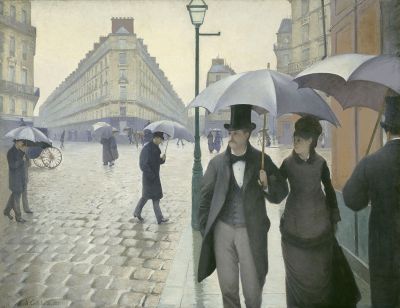 Paris Street: Rainy Day
by Gustave Caillebotte
Art Institute of Chicago