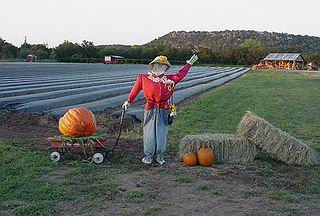 Pumpkin Painting, Mazes and Fall Fun
Sweet Berry Farms opens for pumpkin picking, and outdoor fun
by Alfredo Alvarez
Texana Editor
MARBLE FALLS, TX - Charlie Brown searched endlessly for that Great Pumpkin hiding in the mysterious pumpkin patch. Now it can be your turn. Take some time this Fall to enjoy the new weather, and peaceful Texas countryside by wandering through Sweet Berry Farms's mazes, and pick a freshly grown pumpkin for Halloween or Thanksgiving.
The neat thing about this Texas farm is that they always design their harvests to encourage participation from the public. Throughout October, they will host pumpkin painting, hayrides, pumpkin pie ice cream and goats and horses for petting.
That's right, fresh pumpkin pie ice cream! Those people who are into creating straw men will enjoy the scarecrow stuffing activities. Bring the entire family.
Of course there are also lots of beautiful pumpkins, gourds and squash for sale. Visitors can select one from the store displays, or pull one directly off the vine. Pumpkin vines can be spiny and prickly, so consider bringing a good set of gloves, and don't wear sandals to the pumpkin patch.
Pull the pumpkin from the vine, and the stem will typically break off where it connects to the pumpkin. They will prune excess foliage from the pumpkin for you. They do not allow folks to carry their own sheers into the pumpkin patch.
Sweet Berry Farm now has two locations. The original farm is located in Marble Falls, which is nestled in the Texas Hill Country north-west of Austin. This location contains the Waltz Across Texas Maze. Sweet Berry Farms notes that this maze is still growing, but should be ready for the public on October 18th. (A sudden attack of army worms forced them to unexpectedly mow it down and restart it.)
Sweet Berry Farms now has a location in Lexington, Texas, a tucked-away hamlet east of Austin. Here, their brand-new America Maze opens at the beginning of October until the end of November. These testaments of agricultural architecture grow taller every day.
The leaves are turning color, and the days are shorter. The pumpkins and gourds are ready for picking. Come on out and enjoy Mother Nature at her best at the Sweet Berry Farms.
For more information on Sweet Berry Farms, and directions, visit their Web site at www.sweetberryfarm.com. Their hours of operation are Monday, Tuesday, Thursday, Friday and Saturday 8:30am to 5:30pm. Sunday - 1pm to 5pm. Closed Wednesday's

The Waltz Across Texas Maze
Uses for pumpkins and gourds: