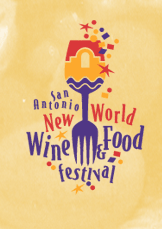 Totally Tejas At San Antonio's Food Festival
by Alfredo Alvarez
Texana Food & Events Editor
(SAN ANTONIO, TX) -
Have you ever wanted to spend a weekend learning about fine wine and eating delicious food from some of the best chefs in Central Texas? You will want to visit San Antonio on the weekend of November 1-3 to enjoy the New World Wine & Food Festival. In its third year, New World promises to feature all kinds of fine wines for the tasting, exquisite dinners and informative cooking classes.
Some events are formal, and many others are much less so. If you would enjoy taking part in interesting classes about food and wine, or a formal meal with top-notch Texas chefs, there will be something here for you. Tickets are sold to each event seperately, or as special packages on their website, http://www.newworldwinefood.org.
On Friday night the focus is on Mexico with the HemisFare 2002 at the newly built Westin Riverwalk Hotel. Enjoy food from a stellar array of Mexican chefs, accompanyed by great wines from Texas, Mexico, Chile and elsewhere. Sample food from visiting chefs from Cuernavaca's Reposado, Ensenada'a Manzanilla, Florida's Mark's Las Olas with super chef Mark Militello. Local favorites will be on hand serving, including Beto's Latin Grill, Paloma Blanca, Lux Bakery, La Fonda on Main, Rosario's and Los Barrios. Friday is also the popular Mexican holiday Dia de los Muertos. There will be authentic, decorated alters from Mexico there to give this homage to Mexican culture a finishing touch. With tickets at $60 per person, this popular, Friday-night event is full of new food, interesting exhibits and interesting people.

Saturday night's event, Texans In Tuxes features some of the state's most celebrated chefs in a more intimate environment, the Buckhorn Museum and Saloon. This is the festivals's signature event. Chef hosts include David Garrido (Austin's Jeffrey's), Scott Cohen and Mark Chapman (San Antonio's Las Canarias), and Katherine Tuason (San Antonio's Biga on the Banks). Places are limited for this six-course meal. Tickets are $100/person.
On a less formal note, Sunday's Totally Tejas looks like a perfect way to end a long weekend, and present one opportunity to treat your family and friends to a fun and enjoyable afternoon of Texas food and wine. Held under the shaded patios of the historic La Villita Assembly Building, this $20 event lasts from 1 to 5 p.m., and features lots of Texas wines, as well as local chefs and retaurants like Adam Mark's Paul Gibb, the Grey Moss Inn, India Oven and The Fig Tree. Some top-notch writers will be on-hand to tout their books (many of which have been popularly reviewed already on Texas Cooking).
Event tickets can be puchased separately, or you can make a whole weekend of it. If you live elsewhere and want to spend a fun weekend in San Antonio, the Festival has arranged special rates at several nearby hotels. Full of events which combine Mexican influences with aspects of the great food and wine Texas has to offer, this year's New World Food & Wine Festival promises to be a true San Antonio kind of event.
Send us your feedback - texana@texascooking.com