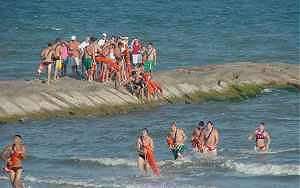 Summer Beach Fun on Galveston Island
by Alfredo Alvarez
Texana Editor
GALVESTON ISLAND, TX - Some of the greatest songs ever written were songs about the ever-changing seasons-of-time including: Seals & Crofts', Summer Breeze.
Summer breeze makes me feel fine blowing through the jasmine in my mind
Don't miss out of Summer fun on the warm, sunny beaches of Galveston Island. Tourists can frankly visit there practically any day this Summer and find things to do. However, there are several beach of events interest that deserve special attention:
July 19 - BEACHFEST---The 2003 Regional Lifeguarding Tournament and 5K Fun Run
More than 100 of the best lifeguards in the State of Texas will compete for TOP HONORS. Lifeguards and Jr. Lifeguards will compete in 8 contests of skill and stamina during this one-day competition. Events include: Swim rescue, rescue board race, ocean swim, paddleboard race, beach flags, run-swim-run, beach run and Texas iron man/woman competitions. The public is encouraged to participate in the 5K Fun Run and the Paddleboard competition. From 8 am to 6 pm at the beach on 53rd Street. For more information call 409-763-4769.
July 19- Band on the Sand at East Beach: The Beach with Beer!
Listen to great entertainment with toes in the sand. Free event.
July 27 - Playboy Model Bubble Bath Contest with 94.5 The Buzz
East Beach. Live music featuring Overshot.
Every Tuesday, August 5, 12 & 19 - Galveston Summer Band Concert
Sealy Gazebo, 24th & Avenue I. Performances at 7:30 pm. Frank Incaprera provides entertainment for the whole family. Flag parade for children. Free event. For more information call 409-744-2174.
August 25 - Galveston Chamber of Commerce 2003 Golf Tournament
Galveston Island Municipal Gold Course, 1700 Sydnor Lane. Tee times at 8:00 am and 1:30 pm. You can become a sponsor, door prize donor, or golfer in the tournament. For more information, call Darcy, 409-763-5326, X 155.
September 6 - 8 - Labor Day Weekend Band on the Sand
Listen to great entertainment on East Beach. Free event. $7 parking per-entry. For more information visit www.galveston.com.
For more information on Galveston Island, contact the Galveston Island Convention & Visitors Center toll-free at (1-888-425-4753) or visit the Web site at www.galvestoncvb.com.

Marmac Guide to Houston and Galveston