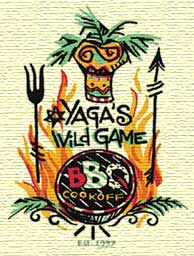 Cinco de Mayo on Galveston Island
by Alfredo Alvarez
Texana Editor
GALVESTON, TX - Get your family out of the house and to some of the exciting events on Galveston Island for the Cinco de Mayo holiday weekend, May 3-5. There will be dancing in the streets. There will be one gigantic backyard barbecue cook-off. Maybe you prefer an illustrious stroll down memory lane. Now who would have a problem with any of that, least of all the dancing in streets?
City streets will be overflowing with the sights and sounds of Mexican music and dance, as a Spanish flare ignites Galveston during Cinco de Mayo, May 3-4. Try your luck with a jalapeño-eating contest, enjoy strolling mariachis or dance the day away with popular live entertainment featuring Gary Hobbs.
The sweet smell of mesquite fills the air as Yaga's Wild Game Cook-Off gets underway on Saturday, May 3. Texas Cooking readers love cook-offs, and this one promises to be great. Competing teams will submit at least two entries, one of which must be wild game. Other divisions include pork, chicken, seafood and beef brisket. Visitors can eat, drink, cook and raise money for several community charities. Live music and activities for the kids are all part of the fun. For more information visit www.yagaschildrensfund.org.

If one of your pasttimes is exploring some of Texas's beautiful old homes, explore the Island's privately owned homes during the 29th Annual Historic Homes Tour, May 3-4. From extravagant estates to cottage bungalows, Galveston's vast collection of 19th century architecture will take visitors back to the days when Galveston was the "Wall Street of the South." For more information visit www.galvestonhistory.org.
All in all, there is something for everyone over Cinco de Mayo weekend on Galveston Island. For more information on Galveston Island, contact the Galveston Island Convention & Visitors Center toll-free at (1-888-425-4753) or visit the Web site at www.galvestoncvb.com.

Marmac Guide to Houston and Galveston