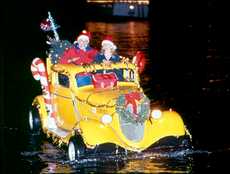 GALVESTON ISLAND - Jingle Bells, Jingle Bells, Jingle all the Wayoh What Fun it is to Ride on a Lighted Boat Display! Galveston Island invites you to join in the excitement as we kick-off the holiday season with the Sixth Annual Galveston Harbor Parade of Lights. The fun begins at 6 p.m., Saturday, Nov. 23 as decorated boats of all sizes float across the Port of Galveston competing for your applause.
Galvestons boat parade wouldnt be complete without Santa Claus: so beginning at noon, look for the jolly old man dressed in red felt--- traveling by horse-drawn carriage in the downtown area--- taking photos with the kids.
"The Historic Downtown Strand Partnership does a terrific job hosting this holiday event, says Christa Buggey, director of Galveston Tourism. "Its great fun for the entire family and it benefits our merchants and hoteliers by attracting early holiday visitors to the Galveston area.
Pier 21 and 23 are superb "free" viewing areas for the parade, located near the Texas Cruise Ship Terminal. All of the wonderful restaurants along the harbor also offer excellent viewing of the parade. Reservations are recommended due to additional foot traffic in the area.
Interested boaters must complete an entry form and pay a fee of $35 per-boat. Approximately 50 awards will be presented during the Awards Brunch on Sunday, Nov. 24 at Fishermans Wharf, (22/Harborside).
For additional information and entry forms call the Historic Downtown Strand Partnership at 409-763-7080 or 800-787-2635.
For more information on Galveston Island, contact the Galveston Island Convention & Visitors Bureau toll-free 888-425-4753 or visit the Web site at www.galvestoncvb.com.