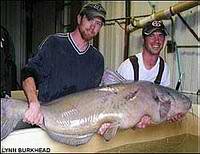 World-Record Blue Catfish Caught in Texas
She Weighs in Heavily
by Alfredo Alvarez
Texana Editor

Athens, TX - Splash is her name, and being the World-Record Blue Catfish is her fame.

Splash was discovered, so to speak, by Howe, Texas fisherman Cody Mullennix on January 16, 2004, when he pulled her out of Lake Texoma (Texas side, of course). Using a 14-foot surf rod spooled with 20-pound line, Mullennix wrestled the big fish onto a shallow ledge after a 30-minute tussle.

"There was something about it that grabbed hold of me," Mullennix said. "I gave it everything I could to get it over the ledge. I kept it out there in 10 to 12 inches of water and kept pouring water over it. I was too scared to put it on a stringer, or back out in deeper water."

Later on that year, Splash was certified as the new world record blue catfish by the International Game Fish Association.

This big-fish story has a happy ending for the fisherman, the fish and the good people at the Texas Freshwater Fisheries Center in Athens, Texas, where Splash found her new home. The 26,000-gallon aquarium there provides the perfect venue for Splash shows, and she has been drawing crowds. Splash has adjusted nicely to stardom and her new surroundings. She likes to cruise close to the glass to check out her fans, and will actually swim up to the glass and look you in the eye.

Not a picky eater, Splash is fond of whole, raw chicken hindquarters, and occasional mullet snacks.

On January 22 Splash celebrated her first year of residence at TFFC with a birthday bash. The local Wal-Mart provided a six-foot birthday cake for the occasion.

Interested visitors of all ages can visit Splash, as well as many other interesting and entertaining exhibits at the Texas Freshwater Fisheries Center.

The Texas Freshwater Fisheries Center is located at 5550 FM 2495, four miles east of Athens. Fish in the dive tank may be viewed any time the center is open. Hours are 9 a.m. to 4 p.m. Tuesday through Saturday, and 1 to 4 p.m. on Sunday. Dive shows are at 11 a.m. on weekdays, 11 a.m. and 2 p.m. on Saturdays, and 2 p.m. on Sundays. For more information, visit the Web -- http://www.tpwd.state.tx.us/fish/infish/hatchery/tffc/ -- or call 903-676-2277.

Our thanks to Larry Hodge at the Texas Freshwater Fisheries Center for generously providing information and photos for this page.

[Click photos to enlarge]
| | | | |
| --- | --- | --- | --- |
| Jason Holbrook, left, and Cody Mullennix strain to display Splash | Splash thinks chicken tastes just like chicken. | All right, Mr. De Mille, I'm ready for my close-up. | Splash cruises the aquarium. |