by Steve Labinski
Texana Editor
A swirl of dark chocolate and a plethora of petit-fours
Cementing Austin's position as one of the country's most lively locations for food events, the cocoa-soaked Austin Chocolate Festival promised every attendee such an abundance of chocolate sweets that everyone gets a doggie bag to bring the leftovers home.
Visitors to this fourth annual event receive a slew of tickets which they can use to get food and drink, similar to going to a carnival. The goal of the festival is to raise money and awareness for Breast Cancer by benefiting Susan G. Komen for the Cure, promote small food businesses in Texas that work with chocolate, and provide a creative and fun atmosphere for the vendors and guests.
Central Texas area pastry chefs and candymakers turned out to present overflowing trays of confections and a wide variety of taste choices. Both days of the festival featured chocolate-tasting-contests, where folks tasted long lines of chocolate candy culminating in a People's Choice vote.
There were also plenty of diversions to allow people to mix things up beyond just eating candy. The TXRD Lonestar Rollergirls zipped around the venue offering savory tidbits on trays. We enjoyed several helpings of warm crawfish tamales. The Tipsy Texan was also on hand shaking up several different libations, including a fruity orange tequila drink as well as a chocolate liqueur mixed with Kahlua. Saint Arnold's Brewing Company was on hand offering free beer. (Yes, the two best words in the English language for some: free beer.)
| | |
| --- | --- |
| The Tipsy Texan | TXRD Lonestar Rollergirl |
The pulse of the show comes from the many local chocolatiers who filled two rooms with tables of candy. Soraiya Nagree offered plates of colorful, tantalizing macaroons. Honestly, these were our absolute favorite at the show. All of her desserts are for sale on her website, http://www.luxesweets.com/. Alan McClure offered several sweet products of his exotic Patric Chocolate, including the sweet Madagascar bars. Unfortunately, their special hot chocolate was not being served when we visited, but it's for sale on their website.
Employees at Austin's Intel facility and others who work in that area are familiar with Kevin's Cookies, one of the town's superb gourmet cookie shops. [http://www.kevinscookies.com/] They presented a wide range of cookies, all proudly labeled with the superlative Best Cookies on the Planet.
Stacey Bridges from Austin Cake Ball offered an impressive display of desserts. A temperature-controlled glass cabinet presented their stunningly rich cake balls. The moist red velvet cake ball was simply divine, and everything from their Austin-based cakery is for sale on their website at www.austincakeball.com.
The spicy mexican chocolate from Erika Martin with Blissed Out Chocolates was so pure that it kept us awake for hours.
Chocolate Art
There were other interesting exhibitors, like the Chocolate Lady, aka Paula J. Simpson, who creates complete works of popular art, including the frames, out of chocolate. [www.texaschocolatelady.com] These pieces are uniquely beautiful, and would be an unforgettable gift for anyone. Simpson told us that she can coat the art with a special chemical that preserves it for years.
This means that these chocolate art pieces can be adapted for those who wish to purely consume their art visually, as opposed to consuming it literally. So, order up an all-chocolate Warhol's Marilyn Monroe, or Van Gogh's Starry Night, and enjoy.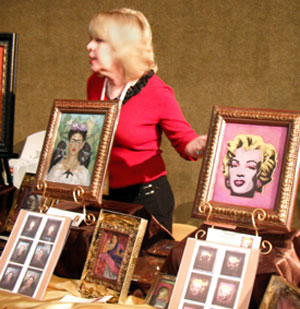 Paula J. Simpson, aka The Texas Chocolate Lady
Not only has Austin developed a reputation for food enthusiasts, but it also built quite a reputation for having its own movie scene. Saturday night at the show featured a screening of the independent movie Death, Taxes...and Chocolate, a film about a group of people who confront death by eating lots of chocolate. This bittersweet film premiered last year in Los Angeles.
Whatever your expectations, the Austin Chocolate Festival 2009 was filled with things delicious, unique and entertaining. We eagerly await next year's fifth annual show. Follow events on their website at www.austinchocolatefestival.com.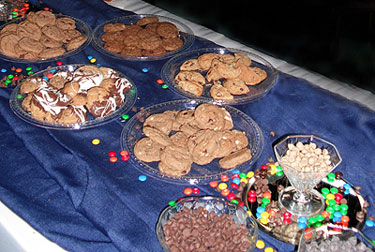 The impressive spread at Kevin's Cookies
Steve Labinski lives in Austin, TX.