Ghosts of North Texas
Ghosts of North Texas Review
By Mitchel Whitington

Original Review by Steve Labinski
Occurance at Screaming Bridge
While attending the Texas Book Festival last month, I asked the owner of Republic of Texas Press what their most popular books were. His answer will surprise you. "Ghost books!," He showed no fear in his quick answer.
It had never even occurred to me to spend time reviewing one of their "ghost books." Perhaps it was my high-society breeding that caused me to turn my nose up that them. Then, I found their latest ghost book, Ghosts of North Texas in my new releases catalog, so I thought I'd see what all the popular attention was about.
I read this entire book in one evening, completely enthralled and entertained. The subject matter was ghost stories, and to my happy surprise, it was far, far better than any episode of Unsolved Mysteries. Dallas writer Mitchel Whitington tells stories of almost every ghost story he could validate and research that exists in the north Texas area. Most of these supernatural tales take place around the Dallas/Fort Worth area. However, there are also stories from Mineral Wells (see excerpt), Cleburne, Waxahachie, Granbury and others.
Whitington styles the book as a travel guide to the haunted places of north Texas. Reading about them, you will want to go see for yourself. He even includes addresses. These are not the standard haunted places you might expect.
Whether it is the grieving ghost of Berber's Bookstore in Fort Worth, the spirits of the Sons of Hermann Hall in Dallas or Smiley's Ghost at Mills Cemetary in Garland, you will follow these tales with interest. Whitington always concludes each ghost story with his opinion on its validity.
The ghost stories all include photographs of the scene. Whitington actually researched the background of every story in the book. This context makes the actual ghost story more interesting. For example, he describes several ghost stories in Arlington, Texas. [Having grown up in Arlington, I actually remember most of them). "As I first started my research, I found more ghost stories about Arlington, per capita, than any other city in North Texas. They had colorful names such as "Legacy Park," "Hell's Gate," "The Hobo," "Screaming Bridge," "Crystal Canyon," and many more.
Whitington describes several stories originating from Indian days. He also discovers the "real story" behind the "Screaming Bridge" to Mosier Canyon, where several Arlington high school students were tragically killed in a late-night car accident. The Screaming Bridge story lives on thanks to high-school gossip, even though the original bridge was replaced years ago.
For Dallas, Whitington gives his take on the infamous Lady of White Rock Lake, a story almost everyone living in Dallas has heard at one time or another. He also goes into other ghost stories like the Phantom Ballroom of the Hotel Adolphus, the Dark Man of the Lizard Lounge, the Spirits of Snuffer's Restaurant and an odd story about the Majestic Theatre.
Fort Worth has its own share of ghost stories. There are ghosts at Barber's Bookstore and in the Jett Building in old downtown, and also in Del Fresco's Steakhouse and the Old Spaghetti Warehouse.
Smaller towns have ghost stories too. I had no idea about the interesting story of the Theater Ghost of the Granbury Opera House, which has connections to John Wilkes Booth and the Abraham Lincoln assassination. And Denton has the Attic Ghost of Bruce Hall, as well as Brenda's Spirit in Maple Street Hall.
The author's writing style is excellent - patient, descriptive and conversational. He writes, "Don't decide right now whether or not you will allow yourself to accept the idea of ghosts; we have many places to visit. Come along with me, and experience the ghosts of North Texas for yourself!"
Get ready for stories that are entertaining and enlightening.
The Health-Hunting Ghosts of the Baker Hotel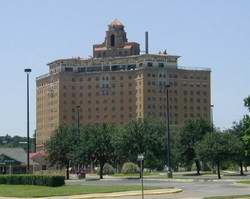 There's something in the water over in Mineral Wells. At least, that's what the town was banking on a little over a hundred years ago. When I started doing research on the town of Mineral Wells, both from the ghost aspect and a historical viewpoint, I was amazed. This was one of those places people flocked to for a miracle treatment for what ailed them - both the superstars of the day and the common folk alike.
The whole thing started when a gentlemen named J.A. Lynch established a farm in the area in 1877, which was followed by a settlement a few years later. At the time, the railroad tracks only went as far as Millsap, Texas, so the road to the new town of Mineral Wells was covered by stagecoach. Occasionally there was a traveler or two on the coach, and when they climbed down for a drink of cool water at Mr. Lynch's stop, they found that the taste of the liquid from his well was extremely bitter. Many thought it tasted so bad it might be poison, in fact!
Lynch assured the folks that the water was safe to drinkand went as far as to say that ingesting it had completely cured his rheumatism. A seed was planted in the traveler's minds, and a few people came back, citing some medicinal benefits after drinking the bad-tasting water. The legend of Mineral Wells was born. Of course the story went on, and in actuality, the acrid mineral water was both the rise and fall of the town.
When I heard that some supernatural activity had been reported at a hotel there, I decided to look further into the town's history. After all, if I was going to be visiting, I wanted to know what to expect.
Mineral Wells was about as far west as this book goes, and I can't say it wasn't a little bit of a haul out there that day. Still, there was something intriguing about my destination: The Baker Hotel. I'd heard tell you can see the skyscraper from some distance away, so I kept my eyes peeled on my westward drive.
As I drove, I reviewed my notes, which contained some pretty interesting things. I found out that by 1885, Mineral Wells was enjoying a genuine explosion in popularity due to the health benefits of its water that were being touted nationwide. Several other wells had been dug, one of which supposedly cured a women of her epilepsy. Actually, the disorder that it cured varies with the tale, but no matter. The well was named Crazy Water and became one of the most famous in town.
Mineral Wells thrived. Celebrities flocked into town, ailing people from across the country came to the small Texas town in droves, and some wells even bottled the water and shipped it to those unfortunates who couldn't visit in person. Because of the amount of traffic, rails were laid into town, and a passenger train becan making a regular run in 1891. Things were booming!
In 1920 over 400 mineral water wells had been drilled in the town, and everyone was selling healing water treatments. Bathhouses were constructed, and visitors came not only to drink the therapeutic waters of the town, but also to immerse their bodies in the healing fluid. As you can probably imagine, plans were quickly made for several palatial hotels to house the town's guests. In 1929 Mr. T. B. Baker built his fourteen-story hotel in the middle of town, where it still stands today. It reportedly cost over $1.2 million dollars, had 450 rooms, and one floor that was dedicated solely to the pampering of guests with mineral water baths, massages and other amenities. A massive swimming pool was constructed at the Baker, one of the largest in the country at the time, and it was filled - of course - with the miraculous healing water of Mineral Wells. The Baker Hotel became a very popular health resort and even a last-ditch effort for people with terminal illnesses. Some moved into the hotel to try to recoup their health, and unfortunately, some died there. There were other famous deaths associated with the hotel, all of which have been sensationalized over the years. A bellboy was crushed by a service elevator and died from the injuries several days later. There have been many stories of shady dealings surrounding his death. In actuality, he was the victim of a tragic accident and nothing more.
On another occasion a woman was found dead in the hotel, and no one had a clue as to who she was. After she was embalmed, the hotel displayed her body in one of the front lobby windows in the hopes someone would recognize her and provide a clue to her identity - a sight you definitely don't see every day. Just imagine walking down the street of downtown Dallas or Fort Worth and seeing a picture window with a corpse inside. I can only imagine a sign: "Do you know me? Please report inside." I was never able to find out whether anyone identified the poor lady.
One of the final deaths in the hotel was associated with the hotel's namesake. T.B. Baker, the man who built the hotel, died childless in his nineties. He had left the hotel to his nephew, who kept it open as long as he could. When the treatment of disease by mineral water waned among the general public, the nephew closed the hotel in 1963. Local investors purchased it immediately and reopened the hotel in 1964. In 1967 the Baker nephew came to visit and stayed in one of the hotel's best rooms, the Baker suite. He died there during the night of a heart attack, passing away at the age of seventy-four. The hotel struggled for a few more years and was finally closed due to a lack of business.
That's how I found the Baker when I made my visit there. Approaching Mineral Wells, it's impossible to miss. You drive into this flat, typical Texas town, and suddenly there's a fourteen-story building rising up from the middle of nowhere. On every other location I visited in the course of writing this book, I relied on street signs and addresses. For the Baker, I just drove into town, saw the building, and headed right for it.
Inside the Baker was very, very strange. The inlaid tile and fine appointments are now in disrepair, but the glamour of its former day was evident. I wondered when supernatural activity started happening, and apparently things had been occurring for some time, because investigative groups have been coming there for years. Baker tour guide Robin Fletcher told me, "The first paranormal group visited here back in the fifties, but a resurgence came just a few years ago."
Tours are now given by reservation, and if you have at least ten people in your group, you can even schedule an evening tour and spend the night in the grand old hotel. It is listed in the National Register of Historic Places, Building #82004518.
I wondered what had drawn paranormal investigators to this place. As it turns out, strange things started happening in the Baker as soon as it closed. The first thing people began to notice was that windows would be open at one time, and then when they glanced again, they would be shut. Imagine if you worked across the street from the place, seeing it everyday, and noticed that a particular window was open. But now, think about looking briefly away and then returning your gaze to see that the window was now shut.
This was immediately attributed to the actions of some kind of caretaker or such, but in actuality, the hotel was locked up tight. A caretaker could not be afforded, and when the person who managed the street-level shops retired for the evening, the hotel was completely empty, devoid of all living beings. For whatever reason though, the windows were opening and lowering themselves at will.
But that was just what was happening in the daytime. During the evening, lights were seen in the rooms of the deserted old hotel. Sometimes, it was a full room light, as if a guest had just checked in for the evening, but other times it was a strange, glowing light that could not be explained. In a place that was supposedly deserted, the town's residents often saw a light come on in one room or another, or a single source of light drifting from window to window.
These manifestations take a backseat to the other occurrences at the Baker, however. You see, figures have been seen standing in a window; yet no one lives in the hotel! When people walk through the building, there are also scents that are overbearing. The pungent smell of a cigar may waft through one hall, while the smell of perfume may be drifting through the next. Several businesses occupy the ground floor of the Baker, but to really get the feel for the place, contact the group that gives periodic tours and schedule a walk through the grand old hotel. It's hard to look at the surroundings that were once so opulent and plush but now have fallen into disrepair. I felt extremely sad for the place and wished I could have passed through it in the heyday of Mineral Wells. Hobnobbing with the rich and famous, swimming in a pool of healing water, or just looking out across Texas from the top floorl it must have been wonderful. Perhaps that's why a few spirit residents have remained in the old Baker Hotel. Looking at it through eyes that saw it in all its glory might make it hard to leave.
Mitchel Whitington also wrote - Uncle Bubba's Chicken Wing Fling.
* * *
Book

Ghosts of North Texas

Softcover

225 pages

Publisher

Republic of Texas Press 2002-10-28

Purchase

Website

Twitter