Fort Worth Then and Now
Fort Worth Then and Now Review
By Carol Roark

Original Book Review by Steve Labinski
Now You See It..
Fort Worth has always featured outstanding images and landscapes of the modern American city. Historian Carol Roark has captured this in her book Fort Worth Then & Now, which compares historic and contemporary views of the same sites throughout the city.
Fort Worth Star Telegram photographer Rodger Mallison took the contemporary photographs, recreating the perspective and lighting of the historical photographs. There are pages of comparisons, organized in the city's North, South, East and West sides.
Downtown images show a 1883 view of Main Street, compared to today with Sundance Square. Some mistakenly think that the area contains historical buildings. However, comparing the two photographs show that not only are none of the original buildings standing, even the Tarrant County Courthouse is different!
Other comparison areas from downtown include: the Flatiron Building, Texas State Bank, the Texas & Pacific Railway Terminal, Hell's Half Acre, plus views of Seventh Street and the Belknap Street Bridge.
The South Side includes comparisons of Elizabeth Boulevard, Forest Park, Texas Christian University, and views of the East-West Freeway (Interstate 30).
The North Side includes comparisons of the Swift & Co. meatpacking plant, Pioneers Rest Cemetary, and interesting contrast - the North Side High School Yell Leaders 1943 vs. today's.
Fort Worth's East side is represented by many interesting photographs, including Glen Garden Country Club, the Fourth Street underpass, and views of Rosedale and Lancaster streets.
The West side of town features images of Lake Como, Camp Bowie Boulevard, Trinity Park, and Lake Worth's Nine-Mile Bridge as well as Inspiration Point.
Roark's clear and straightforward text gives the history of each site and some discussion of the present use of spaces and buildings. The pages of the book are also peppered with little-known facts. For example, all Fort Worth fire trucks are painted white in honor of Company No. 5 which won the State Fair competition in 1903. A painter, who was instructed to make the truck look pretty, painted it white with gold leaf and stripes.
Fort Worth is a place that evokes fond memories of its places, people and events. Fort Worth: Then & Now explores the changes that have taken place in the city, and is certain to work its own magic in shaping our own memories.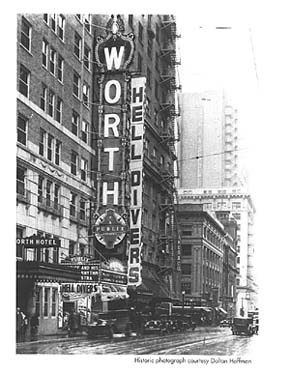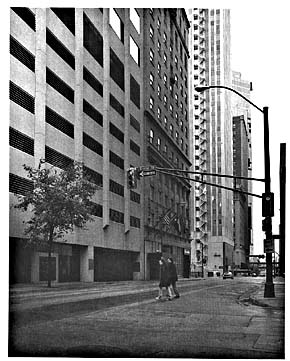 Worth Theater & Hotel - circa 1932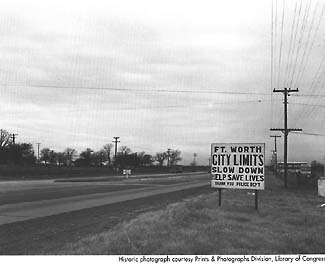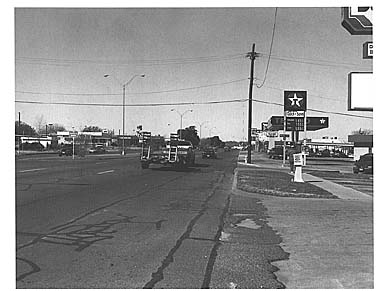 Entrance to Fort Worth on Highway 80
January, 1942 vs. today
* * *
Book

Fort Worth Then and Now

Softcover

158 pages

Publisher

Texas Christian Univ. Press 2001-10-01

Purchase

Website

Twitter