Hard Core Carnivore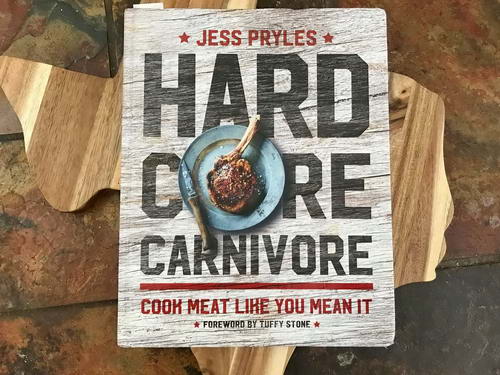 Hard Core Carnivore Review
By Jess Pryles

Original Cookbook Review by Steve Labinski
50 Shades of Marbling
Jess Pryles' Hard Core Carnivore takes us into the chef's kitchens of where the modern meat chefs are really busy spatch cooking, salting and smoking. It's nice to see how the trend has moved towards recipes that actually take longer to prepare and become increasingly complicated. That's a real departure from all the cookbooks whose titles stress "quick" and "under 30 minutes". I remember when I reviewed The Soup Peddler's Slow and Difficult Soups book when this was all a real novelty.
It's a wonder that Pryles could pull herself away from her late night brining to write this book.
Pryles hails from Melbourne, Australia, a land with its own interesting history of cooking meat and barbecue. She has relocated to Austin, Texas where recently, through her blog and YouTube channel, she's become one of the town's rising food celebrities. Pryles writes, "I used to be intimidated by the idea of cooking meat. I shied away from the meat department at grocery stores because the selection was too overwhelming, and I wasn't confident in my own cooking abilities...so I decided to change all that."
Learning about meat, and how to cook it, is a liberating experience. Does Central Market's immense meat counter send you cowering? Reading Hard Core Carnivore will make you feel like it's Christmas the next time you walk in!
In the Meat of Things
Borrowing from her long experience attending competition barbecues, Pryles emphasizes important cooking tools. An instant-read meat thermometer is a vital tool for a meat cook. (You can buy one here!) Pryles stresses in the book's first section the important of cooking temperature, and allowing proper time for the cooked meat to rest. All about salt. Organizing the heat zones of the grill. Smoking. Butterflying. Trussing. It's all here!
The sections are more info-graphic than written direction, which is fine! Once you get the techniques down, you can begin preparing the book's meaty dishes: Seared Pork Loin with Sour Cherry Chutney, Salt-Crusted Crispy Pork Belly, Smoked Lamb Shoulder and Twice-Cooked Cola Short Ribs. She's also got three burger recipes: The Steakhouse Burger, The Double Smashburger and - most interesting - Patty Melt Pretzel Buns. Beef Hand Pies are her Australian riff on empanadas.
Should meat have a monopoly on the grill? Certainly not! There's a recipe on how to properly grill romaine lettuce.
Twice-Cooked Cola Short Ribs
Beef short-ribs are one of my favorites. They take some time cooking to make them tender, but once you've committed to the process, you'll enjoy the results. These ribs are browned then braised in a bath of cola until they yield and soften, then are finished in a super hot oven to crisp up to the very outer edges.
4 ½ bone-in beef short-ribs

1 - 2 tablespoons kosher salt

2 oz. olive oil

1 large onion, roughly chopped

3 celery stalks, roughly chopped

2 large carrots, roughly chopped

4 fl.oz. balsamic vinegar

2 fl.oz. Worcestershire sauce

26 fl.oz. cola

6 thyme sprigs

2 bay leaves

3 cups beef stock
Preheat the oven to 320° F. Season the short ribs well on all sides with salt.

Heat a large pot over high heat, then add the olive oil to the pot. Working in batches, brown the short ribs, taking time to develop a good brown color. Remove and set aside.

Add the onion, celery and carrots to the pot, then reduce the heat to medium. Cook for 5 minutes so the vegetables can soften slightly, loosening and scraping the browned bits off the bottom of the pot as you stir.

Add the vinegar, Worcestershire sauce, cola, thyme sprigs and bay leaves and cook until the liquid has reduced by half.

Once reduced, add the stock and bring to a boil. Return the ribs to the pot in a single layer, then cover with a lid and transfer to the oven. Cook for 2 to 3 hours, until the meat is tender and can be pierced with a knife without any resistance. The cooking time will largely depend on the size of your ribs and pot, so start checking that the meat is tender after 2 hours.

Remove the pot from the oven and increase the oven temperature to 425° F.

Line a baking tray with parchment paper. Using kitchen tongs, carefully remove the ribs from the pot and place on the tray, making sure there no vegetables stuck to the surface of the meat. Place the tray in the hot oven and brown for 10 minutes to create a dark and crusty exterior.

Note: Browning - This step is important to be done properly because it determines the entire depth of flavor of the finished dish. Patience is key, so make sure to leave the ribs for 10 - 15 minutes per side, so that a deep color can develop and form a delicious brown crust.

Serves 6.

* * *
Book

Hard Core Carnivore

Softcover

224

pages

Publisher

Surrey Books

(December 06, 2016)

Purchase

Website

Twitter