Austin Chef's Table: Extraordinary Recipes from the Texas Capital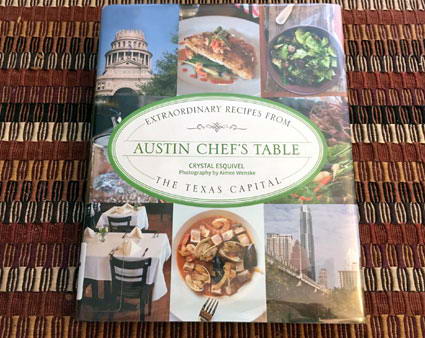 Austin Chef's Table: Extraordinary Recipes from the Texas Capital Review
By Crystal Esquivel

Original Cookbook Review by Steve Labinski
Keep Austin Cooking
It happened fast. In just a few decades, the city of Austin changed from a sleepy college town / state capital into one of America's fastest growing cities. Out of this tumult in comes a 204-page book showcasking recipes from Austin's restaurants. Author Crystal Esquivel edits this volume, named Austin Chef's Table: Extraordinary Recipes from the Texas Capital, which features a wide variety of places, including both classic venues, and scrappy upstarts. The book is part of Lyon's Press' "Chef's Table" series featuring different cities, such as New Orleans Chef's Table: Extraordinary Recipes From The French Quarter To The Garden District
.
Living in Autin nowdays is not as laid back as it used to be. Austin's old timers lament the fancy changes imported by the new residents, much of which they see as bothersome like snarled traffic and valet parking. And the restaurant's have definitely changed.
A lot has happened since a Friday night in Austin meant driving down to the neon-lit Night Hawk steak house on South Congress for dinner. The book's chapters are organized into categories like Salads and Soups, Small Plates, Big Plates and Desserts. Page through the book to get a culinary lifestyle take on Austin's existential crisis. Don't worry, there's plenty of comfort food.
What's for lunch?
One of the star recipes in the book is the Pecan-Crusted Catfish from Moonshine Patio Bar and Grill, one of Austin newer generations of must-try restaurants. Jack Allen's Kitchen offers a very interesting holiday treat: Tamale and Jalapeno Corn Bread Dressing. Tamales in dressing? I'm game!

Tim League's Alamo Drafthouse operation has furnished us with some winners. The Once Upon a Time in Mexico Chicken Salad is always a good, healthy option when seeing a movie in their theater. Better yet, The Highball restaurant and bar, which is owned by the same company, has turned over their Chocolate Stout Cake recipe. It's a towering three-layers of richness featuring Kahlua, mascarpone cheese and almost a full bottle of Guinness.

Kids, don't try this at home!

Want some insight into Austin's mythical taco secrets? Guero's Taco Bar presents their achiote marinade for chicken tacos. And then there's the jackpot - Kerbey Lane Cafe's owners have released the recipe for their famous migas.
Hello, I Must Be Going
With all the creative destruction in the restaurant industry, the book includes recipes from places that are already gone. Does anyone remember Imperia downtown on Colorado St? We have their Spicy Edamame recipe for posterity.
Haddington's was open on the west part of 6th Street just long enough for me to have a couple of good meals there. I'm not sure anyone will bother making their Mussels Steamed in SarVecchio Broth with Slow-Roasted Tomato and Frizzled Leek, however. Maybe if they'd given Mrs. Esquivel a better recipe for her book, they'd still be around today.
A few of the restaurants and their recipes you'll find:
Guero's Taco Bar

Achiote Marinade
Tequila Aioli
Guero's Famous Margarita

Fonda San Miguel

Sopa de Elote (Corn Soup)
Ensalada de Jicama con Melon (Jicama-Melon Salad)

Paggi House

Gulf-Caught "Snowy Grouper" with Maitake Mushrooms, Holland Leeks and Fresh Black Truffle
Espresso-rubbed Sika Deer with Butternut Squash and Spinach

Chez Zee

Sweet Potato Pudding
Sharon's Coleslaw
The meatloaf at 24 Diner is always a real production. Here's the recipe.
Meat Loaf with Sweet Onion Gravy from 24 Diner
Chef Curren took it upon himself to create a meat loaf that even meat loaf-haters would love. He started with mom's recipe, then adjusted it after tasting versions during his many travels. The two types of meat, cheese and fresh vegetables help add depth and texture to the dish. Chef Curran serves his meatloaf with a sweet onion gravy, mashed potatoes and bacon-braised greens. Use the leftovers to make meat loaf sandwiches, topped with red onion, pickles, mustard and ketchup. Recipe courtesy of Executive Chef Andrew Curran.
For the meatloaf:
¾ pound carrots, roughly chopped

½ pound celery, roughly chopped

1 pound onion

4 garlic cloves

3 pounds ground beef

1 pound ground pork

3 eggs

1 pound monterray Jack cheese, diced

2 cups panko

1 tablespoon Dijon mustard

1 tablespoon dry mustard powder

2 tablespoons ketchup

2 tablespoons Worcestershire sauce

1 teaspoon hot sauce (like Tabasco)

1 teaspoon black pepper

1 tablespoon salt

Oil, for the baking sheet
For the sweet onion gravy (makes 4 cups):
1 tablespoon butter

1 tablespoon olive oil

2 ½ onions, thinly sliced

2 tablespoons salt

1 teaspoon black pepper

3 tablespoons flour

2 cups chicken stock

¾ heavy cream
Preheat oven to 400°F.
To prepare the meat loaf: Add the carrots, celery, onions and garlic to a food processor and pulse until minced - do not puree. Alternatively, mince the vegetables by hand and mix them together.
In a large bowl, mix the beef, pork and eggs with a large wooden spoon or your hands. Add the remaining ingredients and mix into the meat until evenly distributed. Divide the meat in half and build 2 meat loves on a large oiled baking sheet (17 x 13 inches woorks well - the two loaves will fit side by side on a sheet) Bake for about 40 minutes, or until the internal temperature of the loaves reaches 130°F.
To prepare the sweet onion gravy: Heat the butter and oil in a large skillet ober medium-high heat. Add the onions, salt and pepper and cook for 20 minutes, or until the onions are tender and sweet. Sprinkle with flour and cook, stirring, an additional 3 to 5 minutes. Add the chicken stock and bring to a simmer; add the heavy cream and simmer 10 minutes.
Let the gravy cool slightly, then puree in a blender until smooth, tasting for seasoning. Spoon over baked meat loaves.
Makes two loves.
Prep time: 30 minutes; Cooking time: 1 hour; Total time: 1 hour 30 minutes
* * *
Crystal Esquivel is an author and registered dietitian, who maintains the blog, Poco-Cocoa. She is also the author of the Food Lovers' Guide to Austin.