<!img src=http://texana.texascooking.com/gifs/movies/benji_poster.jpg width=250 height=380 alt="Benji Poster" align=right vspace=9 hspace=9>
Trivia: The Best Tommy Lee Jones Movie
May the best film win!
Space Cowboys
U.S. Marshalls

by Alfredo Alvarez
Texana Editor

Austin, TX - In the Fall of 2005, TexasCooking.com polled a segment of its readers for their opinion on their favorite Tommy Lee Jones movie. Out of a sample of 328 respondents, the results were surprisingly close.
Choices:
Votes:
U.S. Marshals (1998)
104
31.71 %
Men in Black (1997)
85
25.91 %
Coal Miner's Daughter (1981)
79
24.09 %
The Missing (2003)
40
12.20 %
The Executioner's Song (1982)
20
6.10 %
Tommy Lee Jones is a modern success story for aspiring actors. Born in 1946 in San Saba, Texas, Jones grew up working in oil fields from Texas to as far away as Libya. He won a scholorship to study at a Dallas prep school, ultimately going on to Harvard graduating cum laude with a B.A. in English. He started his acting career by playing roles on and off Broadway. His first role came after only ten days in New York City, where he landed a five word performance in John Osborne's A Patriot For Me. This was despite the fact that he never took an acting class.
He later appeared in Sal Mineo's controversial Off-Broadway production, Fortune and Men's Eyes, as well as in Four on a Garden with Carol Channing and Sid Caesar, and as Stephen Daedalus in Ulysses in Nighttown with Zero Mostel.
In New York he played Dr. Mark Toland on the ABC daytime serial drama, One Life to Live from 1971 to 1975.
Then he moved to Los Angeles appearing in television like the pilot episode of Charlie's Angels. Perhaps his breakthrough came in 1982 when NBC cast in as convicted killer Gary Gillmore in their miniseries, The Executioner's Song, for which he won an Emmy.
When not acting, Jones lives as a part time cattle rancher, owning a 3,000-acre ranch near San Antonio, Texas. He has appeared in over forty films, and today his career appears not to be slowing down.
U.S. Marshalls Special DVD Edition
Coal Miner's Daughter 25th Anniversary DVD Edition

Check here to find a collectible Tommy Lee Jones movie poster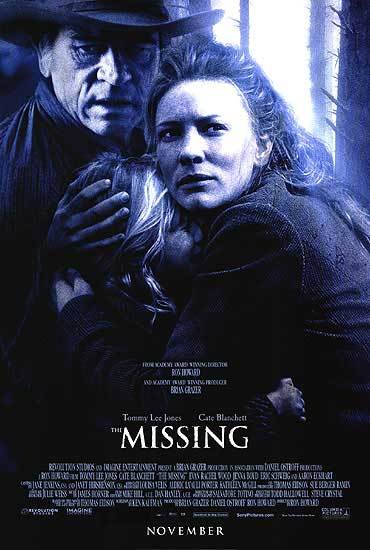 ---
© 2005 Mesquite Management, Inc. -- ALL RIGHTS RESERVED